Senator-elect David Leyonhjelm calls for 'front door' asylum-seeker charge
November 12, 2014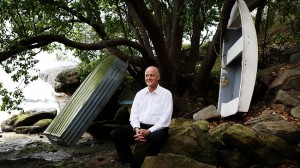 LIBERAL Democratic Senator David Leyonhjelm has proposed a radical plan to charge asylum-seekers $50,000 to come to Australia "through the front door".
Mr Leyonhjelm, who will join the Senate on July 1, will be one of eight crossbench senators who will hold the balance of power in the new Senate.
Speaking on Sky News' Australian Agenda this morning, the NSW Senator-elect predicted Tony Abbott's border protection regime would fail and argued for an economic approach that charged asylum-seekers for permanent residency but denied them access to welfare.
"You can come in through the front door but you have to pay a tariff, and the tariff would be a little bit more expensive than what it costs to pay for a trip to Malaysia to bribe everybody to get in," Mr Leyonhjelm said.